About John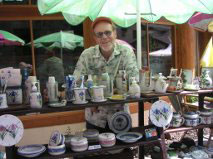 All right, who is this balding, bearded, bespectacled guy selling pottery on some street corner? Just another ex-hippie, mired in the sixties, struggling to survive and avoid the corporate cubicle?

I didn't start out to be a potter. Does anyone? I was going to be a car designer, move to Detroit and draw tail fins. Doodling on the margins of my school papers always got me into trouble in grade school, and cars stirred my adolescent blood, so car designing seemed inevitable. Five semesters of Art Center in L.A. showed me that there were people who were much better artists that I was, and the prospect of moving to Detroit became increasingly unappealing.

So I switched to Psychology - it was a time of questing, for me. One B.A. (Psych., San Francisco State) and lots of rejection letters from grad schools later found me working as a Social Worker, and taking night classes at the local junior college to fight the boredom. The pottery class stuck. I became addicted. All I could think about was my pottery class.

I can read the handwriting on the wall, so I quit my job, went back to school (thank you G.I. Bill!) and became a full-time pottery student at San Jose State. Everyone there told me that you couldn't make a living as a potter, you have to teach (they were all teachers and didn't know much about being a potter). So I figured that was the way to go. Luckily I fell into a situation where I was able to begin selling my pottery on the weekends at a local shopping area in Los Gatos. "Hey, I can sell this stuff and make money!"

So I quit school (I'd become involved in all the anti-war activity at the time and my school work was suffering badly anyway) and became a potter (about 1973). You don't need any credentials to sell pots, just good pots.

So here I am, a gently greying potter, with a modicum of success, slowly potting my way through a good life. It's a hard way to make a living, but a wonderful way to live a life!

*Oh yeah, there are all kinds of other stuff in my life; family, books, sports cars, politics, Mensa, etc., but if you care about that stuff talk to me in person.

Some other information that may be useful: Product Use, Butter Dish, Dip Cooler, Poetry, Mouse Story
2016 Fair Schedule
(Download PDF Copy of Schedule here)


September 3+4, Labor Day Weekend
(Fort Bragg, CA) Paul Bunyan Days Crafts Fair. The new location at the C.V. Starr Center (Willow and Madrone streets) has worked out well.
Come and see for yourself, sunny or foggy it's a great show with lots of crafts, food, dog show, and kids area.
September 10+11
(Truckee, CA) The 9th year for this downtown Truckee Arts & Crafts Festival.
September 30 - Oct. 2
(Menlo Park, CA) Another great art show along tree-lined Santa Cruz Ave. New artists along with many of your favorites from the spring show.
I'll expect to be in my usual spot in front of the Boulanger.
October 8+9
(San Carlos, CA) Art & Wine Faire. The 24th annual Art & Wine Faire (along San Carlos Ave. and Laurel St.) features outstanding arts & crafts
along with wine (naturally), beer, food, live entertainment and a family fun zone.***
October 29
(Sacramento, CA) Holiday Show/Sale. Shepard Garden & Art Center, 3330 McKinley Blvd. Hours 10 AM to 4 PM. ***
November 18+19
(Stockton, CA) Fine Arts Festival. - Spanos Community Center, 920 W. March Lane, Stockton.
Lots of pottery, sculpture, photography, glass, wood, jewelry, and other art -- plus door prizes and a raffle.
Hours: Fri. 4-8 PM and Sat. 10 AM to 5 PM. ***
December 10+11
(Oxnard, CA) Merry Makers Artisan Faire. The Collection Riverpark (shopping center), East of the 101 Freeway, near No. Oxnard Blvd: 10 AM - 7 PM. Holiday atmosphere. My first show in So. Cal. in a long, long time.

During the holiday season I often have some of my pottery in the pottery gallery of a friend in Clarksburg along the Sacramento river.
John at Work
Hope to see you at the next Fair!